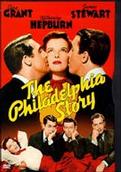 "Hollywood's most wise and sparkling comedy.All the performances are just perfect."-Halliwell's Film Guide

Here comes the bride!And the ex-husband.And a gossip-rag columnist on assignment.Here come Katharine Hepburn, Cary Grant and James Stewart in a peerless comedy romance (directed by George Cukor) about a faultfinding, bride-to-be socialite who gets her comeuppance and an unexpected Mr. Right.

After being labeled "box-office poison," Hepburn rekindled her stardom with a beguiling reprise of her 1939 Broadway role.Top-billed Grant demanded and got a then-colossal $137,000 salary -- donating it to British War Relief.And Stewart won his only Best Actor Academy Award as the wisecracking scribe.(Writer Donald Ogden Stewart won the film's second Oscar for adapting Philip Barry's play).In 1998, Story's success story continued when it made the American Film Institute's 100 Best American Films list.