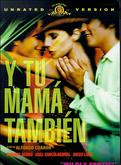 "Wildly Erotic!" -Rolling Stone

From world-renowned director Alfonso Cuaron (A Little Princess, Great Expectations) comes this "provocatively and unapologetically sexual" (Los Angeles Times) coming-of-age tale. Nomintated for a Golden Globe, this sizzling box-office sensation is not only "raucously funny" (New York Post) but also "one of the most compellingly sexy movies ever made" (The San Diego Union-Tribune).

Julio and Tenoch are two teens ruled by raging hormones and a mission to consume exotic substances. But one summer, the boys learn more about life than they bargain for when they set off on a wild cross-country trip with seductive, 28-year-old Luisa. Both boys taste forbidden fruit as Luisa schools them in the finer points of passion, but will their mutual desire for her destroy their friendship forever?